Thai Cuisine Overview
Thailand is the food lover's paradise and a popular destination for enjoying beautiful beaches, soul-soothing spas, incredible nightlife, and unstoppable shopping. But for the foodies, it's the getaway to the most fascinating land that serves mouth-watering, flavorsome dishes that tickle on the tongue and demands for more. Tweaked with a wash of spiciness, Thai cuisine is all about preparing a light on stomach dishes, in amalgamation with the juggling of strong aromatic materials. According to the pioneers of the food industry, Thai cuisine is about rejecting simplicity and experimenting with a wide variety of disparate elements to cook a palatable finish.
Thai food features five sorts of flavors: sour, spicy, salty, bitter, and sweet – 
all go into a perfect balance to please the appetite of a foodie. It has sprouted and evolved with the waves of Eastern and Western influences merging. There is also found the influence of Chinese cuisine in Thailand. As about fourteen percent of Thailand comprises Chinese, so the existence of Chinese restaurants is obvious. Chinese restaurants stand side by side with the Thai restaurants and supplement the diversification of Thai cuisine. Thai cuisine has exchanged a lot of learnings with the cuisines of the neighboring countries over the course of many centuries. The credit for the popularity of Thai cuisine around the world goes to its origin and having over decades of outsiders influence. The popularity of the Thai cuisine is such huge that, in 2017, an online poll, conducted by CNN Travel, of 35,000 worldwide food enthusiasts, declared seven Thai dishes winner under the list of "World's 50 Best Foods." In addition, no other country came this close to the competition and Thailand stayed on top, with Tom Yam Goong grabbing position number 4.
Top five eye-opening facts you might not have heard before about Thai Cuisine
It's not that you have to be a permanent resident of Thailand for enjoying the in-depth taste of Thai food – even a single visit can make you feel the sense of how delicious Thai food really is, because it comes from your self-experience of testing it, or from the admirations heard from the people who already have been there. Those who operate their restaurant business outside of Thailand can never parallel the taste that the natives produce.
Some cool facts about Thai cuisine:
You can't spot baked food
Finding baked food in Thailand is a rare thing as the people don't fancy to have ovens in their house, unlike western households where ovens are an important part of the kitchen. People, avoiding the food baking, rely on frying and grilling the treats and meals.
Food is dirt-cheap here
In spite of the fact that food in Thailand is a treat to the taste buds, the price never dominants the taste factor, yielding dirt-cheap foods – luscious and savory at a super cheap rate. In Thailand, food is cheaper than chips in western countries, according to most of the foreign travelers. One time food costs 35 baht or $1. Apart from the main Thai dishes, noodle dishes sell at a cheaper cost. It won't be a surprise if you feel your stomach full by just spending a couple of dollars.
Vegetarian Unfriendly
The opinion of the natives varies widely about the presence of vegetarian-friendly dishes. Some will try to convince you in the favor of abundance availability, but some would differ. In bigger cities, like Bangkok, there is no scarcity of restaurants that do not serve veg food, but going across the country, non-veg is the main food and trend. Buddhists call vegan food 'jay.' If you're lucky, asking for 'jay' might get you a veg food plate served on your table.
Breakfast, lunch, and dinner—all are alike
Thai people don't fancy to have a variety of dishes in their one-day food menu. In fact, regardless of time, they eat whatever they like, paying less importance to different food eaten at breakfast, dinner, and lunchtime. A noodle soup, therefore, could work for all purposes, acting as the main dish at all three times.
There is no comparison between the original Thai Food and its Western counterparts
It's true for every food native to a country and that what's found in other countries. Same exist for Thai foods. Thai food enthusiasts who believe they have the true knowledge of how Thai food tastes, find an entirely different meaning after arriving in Thailand. The Western counterparts taste nothing like authentic Thai food.
Street Food, Food Courts, and Market Food
Street food in Thailand comprises an array of fruits, snacks, drinks, and ready-to-eat hot meals, which are sold at food stalls or by vendors in streets. For visitors, it's land where they spend most of the time either at beaches or sampling the food, for there are thousands of street foods to try which separately transmits the taste of Thai cooking traditions. By
VirtualTourist
, Bangkok had been named as the number one spot for street food in 2012. Top places where delicious street foods get served are Banglamphu, Bang Rak, Sophan Lueng, Sukhumvit, and Chinatown. What are those top five street foods that should be on the bucket list of every foodie?
Pad Thai
Pad Thai is the national dish of Thailand and expanding beyond the kitchens and restaurants, it has found a popular name in the streets as well. It's very easy to cook and is served within minutes of order placement. This stir-fried noodle dish doesn't cost much and in just one serve, it packs you up for a four-hour action.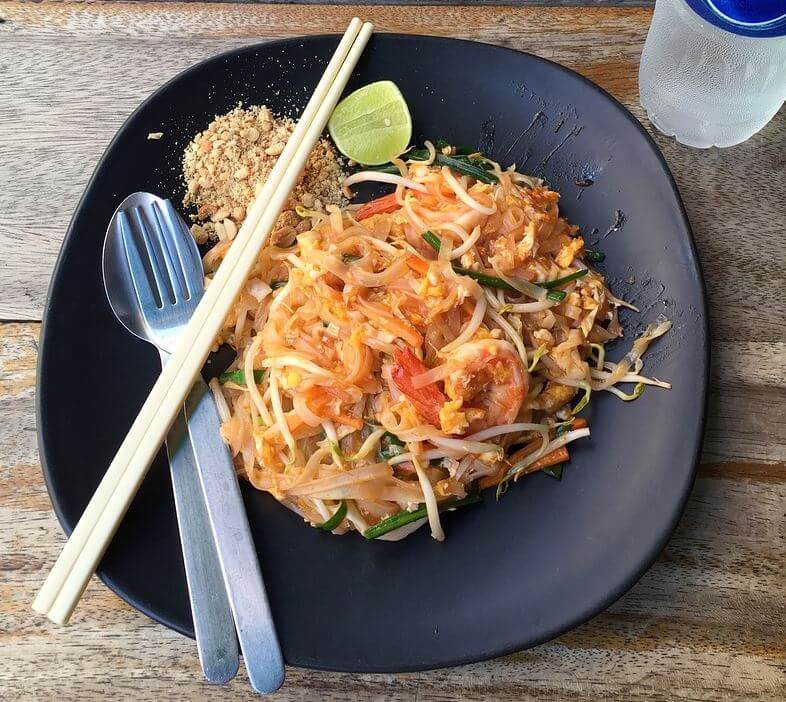 Pad Thai means 'fried Thai,' and it's one of the famous things in Thailand that no visitor wants to miss out while touring. Pad Thai is known for its rich umami flavors and an array of textures, which makes it a comforting meal.
The main ingredients used in Pad Thai are rice noodles, eggs, dried shrimp, tofu; spices such as chiles, garlic; and sauces including the one made with tamarind paste, fish sauce, and palm sugar.
Pad See Ew
Pad See Ew means stir-fried flat noodles. It takes less than 30 minutes to cook and is made by treating extra thick rice noodles in a special sauce prepared from soy sauce, oyster sauce, fish sauce, and sugar. It's delicious street food for and by the Thai people, which eventually has become intensely famous among the tourists who enjoy it for its mild, tasty, salty, bold, and easy-to-eat features.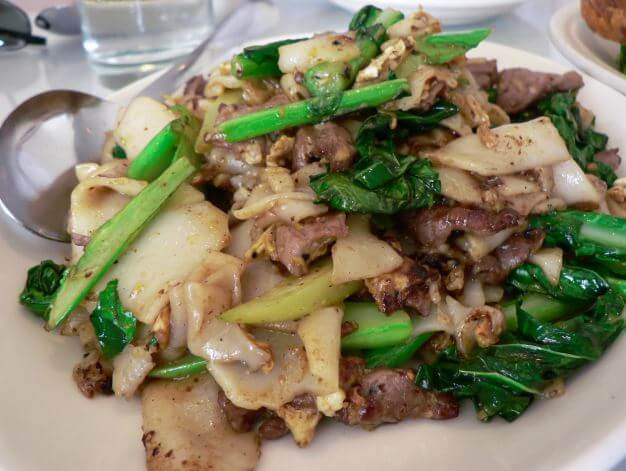 It's basically a Chinese Food cooked in Thai style. Amazed? That's because preparing Pad See Ew takes ingredients that are too common in Chinese cuisine—not in Thai cuisine. The ingredients used in the preparation of Pad See Ew are Pak Kana—a vegetable—noodles, egg, meats, soy sauce, and spices.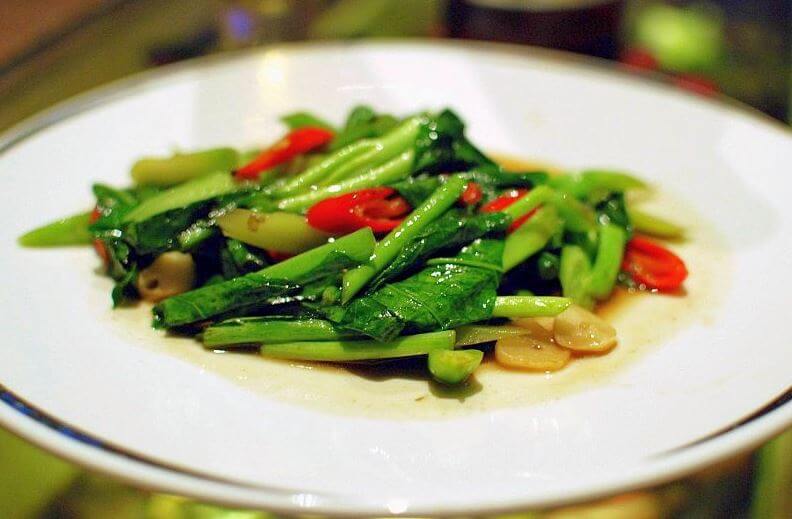 Gai Tod
Gai tod, or Thai fried chicken, is popular street food in Thailand, which is known for its light and crispy skin on the outside and juicy and tender inside. Served with spicy dipping sauce, the chicken wings are first coated in flour and spices and then fried deep until a golden brown look and crunchy texture appears.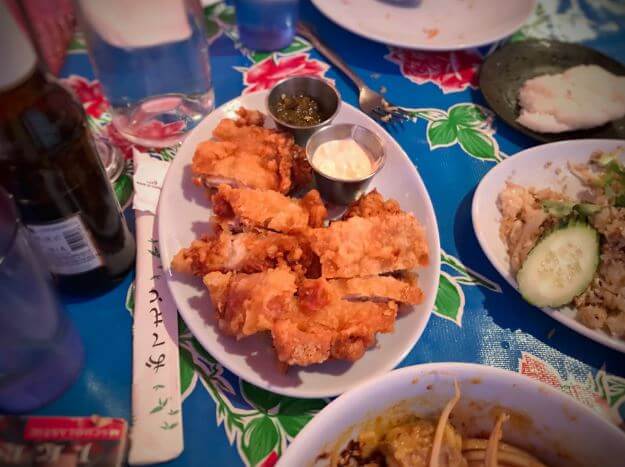 Gai tod is most famous in Bangkok, but its popularity makes availability almost everywhere possible; the best places to enjoy its ultimate taste are, of course, street stalls; and top local restaurants, in Bangkok, like Som Tam Nua and Soi Polo Fried Chicken. This dish is rich in protein but low in fat and loaded with other kinds of vitamins.
Thai Crepe
Thai Crepes also called Khanom Bueang or Thai Crispy Pancakes is one of the most loved street foods found in Thailand. With its history dating back to the Ayutthaya period, it resembles a bit like the Mexican tacos.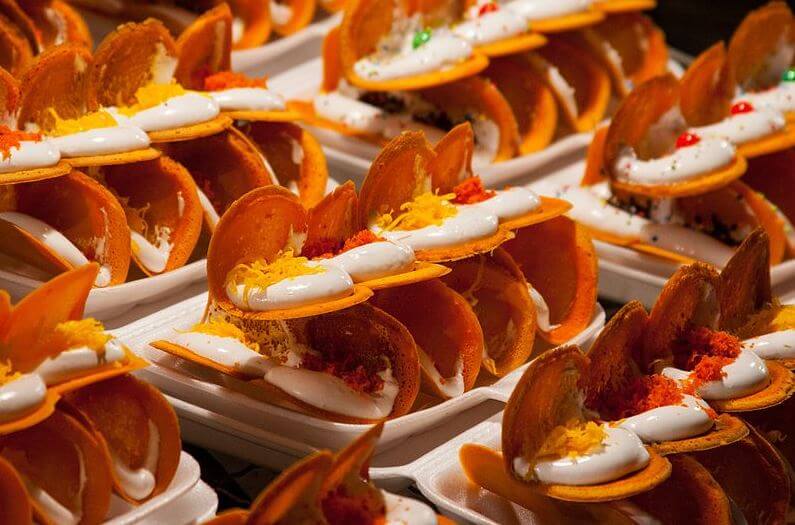 Every bit that comprises Thai crepe looks cute and simple to make but takes a number of preparations for the final taste achievement. Most famous places to try the flavorsome taste offered by this unprecedented dish are Khanom Buand Phraeng Nara (Phra Nakhon) and Damnoen Saduak Floating Market (Damnoen Saduak District, Ratchaburi).
Pad Krapow Mao Soap
Pad Krapow Mao Soap is known as a crowd pleaser, for its ultimate effect on the taste buds, that lingers and reminds you of retesting it whenever you get another chance. It's in an intensely tasty dish, which is praised for its hot, fragrant, and delicious characteristics. Either stir-fry pork or chicken dish is served over a topping of white rice and an egg is used, which is up to the customer to decide. For enhancing the final flavor reaching, a lot of basil leaves are used. Some people prefer it spicy, and some ask for an adjustment in the spiciness, to avoid their roof of mouth from burning.
Vegetarianism in Thailand
Thailand, the land of smiles, is a paradise of food lovers, in a lot of ways. There you won't find a street out of the aromas of frying garlic and chilies hitting your nose, and pulling you toward itself, for one delightful serve. No matter what place you visit, there you will find, for sure, one special dish that's made to steal hearts.
Thai meaning of Vegetarian
Navigating veg food is a major problem in Thailand. It's hard work to segregate what's safe and what's not, as Thai people have a unique definition for vegetarians. According to them,
vegetarian is one who doesn't eat meat or seafood; anything else, like fish sauce, shrimp paste, meat stock, or any byproduct yielded out of treating meat products are counted under veg food.
Only by following a few precautions, you let stay yourself a pure vegetarian and religion unharmed in some cases–especially in Hinduism. A slight deviation off the track and you find yourself chewing or drinking some gristle.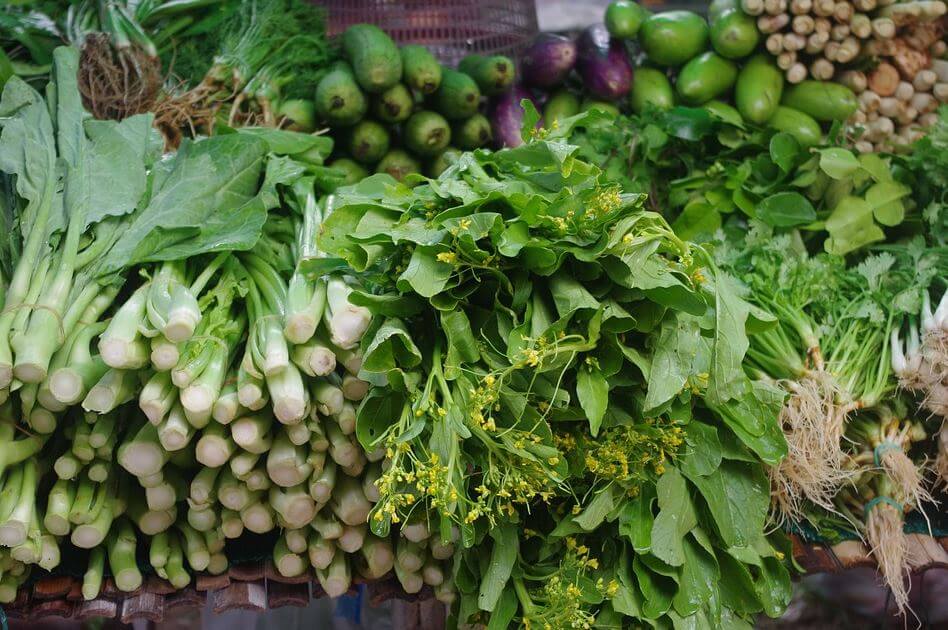 In Thailand, and also in Buddhism, "jay" is the word used for Vegans. Describing yourself as a "jay," you can express before a waiter that you're not a meat eater and anything meat-derived–including garlic, and those herbs with a pungent smell–is strictly not your cup of tea.
In terms of fruits and vegetables, Thailand is an extensively rich country. Here, every local market offers a diverse selection of fresh produce. Follow these steps to keep yourself refrained from biting on any non-veg particle.
How to ask for vegetarian Thai Food
To make aware the waiter or the cook of your food preference,
use Thai words "Ben mang sa
wirat"
which means you don't eat noticeable chunks of meat. Remember, using this phrase don't make you completely invulnerable to the riskier part, so to emphasize your concern,
use "mai gin neua sat" which means you don't want any form of meat in your food
.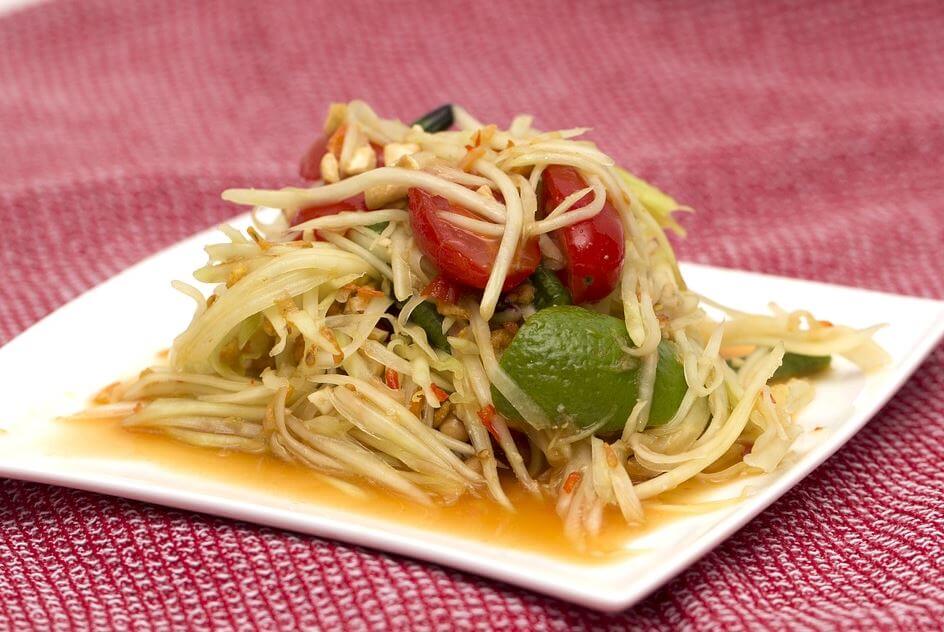 To expressly clear your message to the waiter, use "gin jay" translation, which means "Buddhist Chinese food." The latter is, of course, the preferred way to put yourself completely away from eating any sort of non-veg food.
A few important translations you need to learn:
You're a vegetarian: "
ben mang sa wirat
" (มังสวิรัติ) No fish sauce: "
mai ow nam bpla
a" (ไม่เอานำ้ปลา) No oyster sauce: "
mai ow nam man hoy
" (ไม่เอาน้ำมันหอย) Without shrimp paste: "
mai sai kaphi
" (ไม่ใส่กะปิ)
Thai Essential Herbs and Spices
The secret of the popularity of Thai food is in its good dressing, taste, and aroma, which combinedly appeal four of the five senses. Along with presenting it to look aesthetically pleasing, Thai people pay attention to detail, to get the right yield out of food. The texture, or feel, of the food, is crucial in deciding whether the dish has been cooked correctly, so the right ingredients are chosen to ensure the texture so achieved is correct.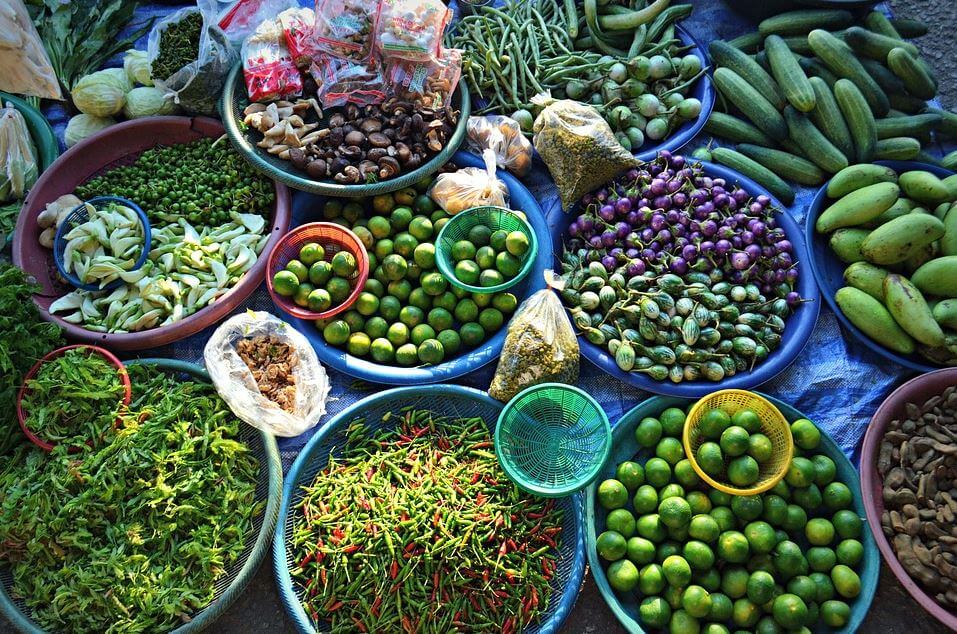 Last, for the sense of smell, an array of spices goes into the cooking material to get a tasty and deliciously aromatic meal. Almost all herbs and spices used in Thai cuisine are found regionally, which accounts for the market never running out of stock. Because of the locally cultivated spices, Thai kitchens stay loaded with fresh supplies, to be used in the cooking process.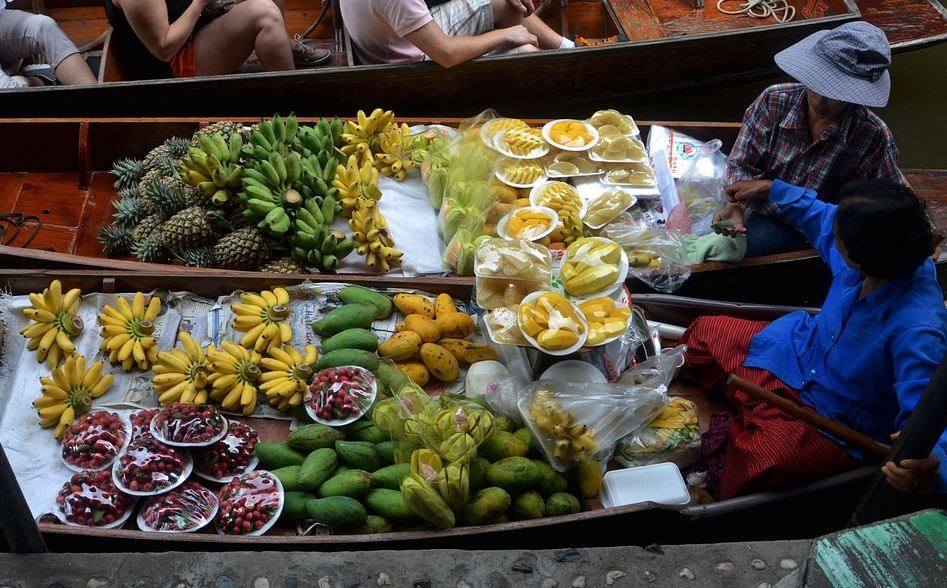 Thai foods overall reflect a rich combination of a flavorful feature which originates out of the use of spices and seasonings.
Bird Chilli (Phrik Khi Nu)
The smallest in the kind of chilies is Phrik Khi Nu which has stored a reputed place in the Thai cuisine for its hotness feature. From the medical perspective, bird chili is known to have anti-cancer and heart features.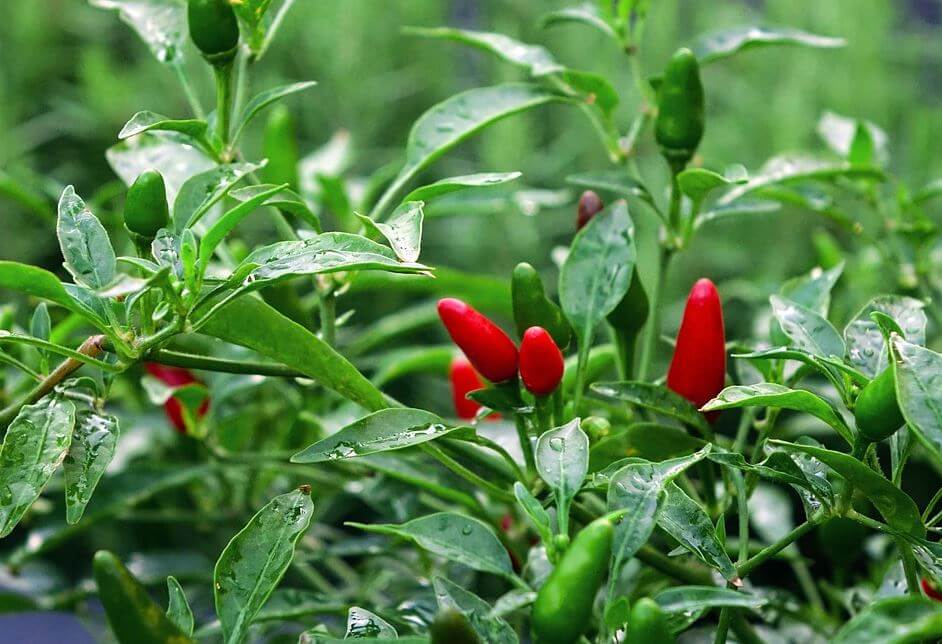 Citron (som sa)
The thick skin of Citrus medica var limetta, which is a round shaped, dark green-colored fruit, is used for flavoring in the Thai dishes.
Cloves (Kanphlu)
Cloves are one of the most expensive spices used in the cuisines all over the world, as there is high risk associated with its cultivation which often fails.
These are obtained from the flower buds of an evergreen tree which is native to the Molucca Islands. For the medical purpose, it's known for providing relief in the case of a bad toothache. For spice purpose, it's used in massaman curry.
Cinnamon (Ob Choei)
Cinnamon is mostly used in meat dishes. It is extracted from the bark of the Cassia tree. It is also used for garnishing in massaman curry.
Chilli (Phrik Chi Fa)
It differs from bird chili in terms of size and hotness. It grows up to a length of 9-12 centimeters and is found mostly in three colors–green, yellow, and red. To keep the taste a little light, or not too hot, phrik chi fa is used instead of bird chili.
Lemongrass
In Thai cuisine, It is used in many ways–chopped and pounded for some dishes, and bruised and cut in long pieces for other dishes. When used in soups and curries, to vent out the hard scent and flavor, it is often bent and kneaded or even cut in small pieces.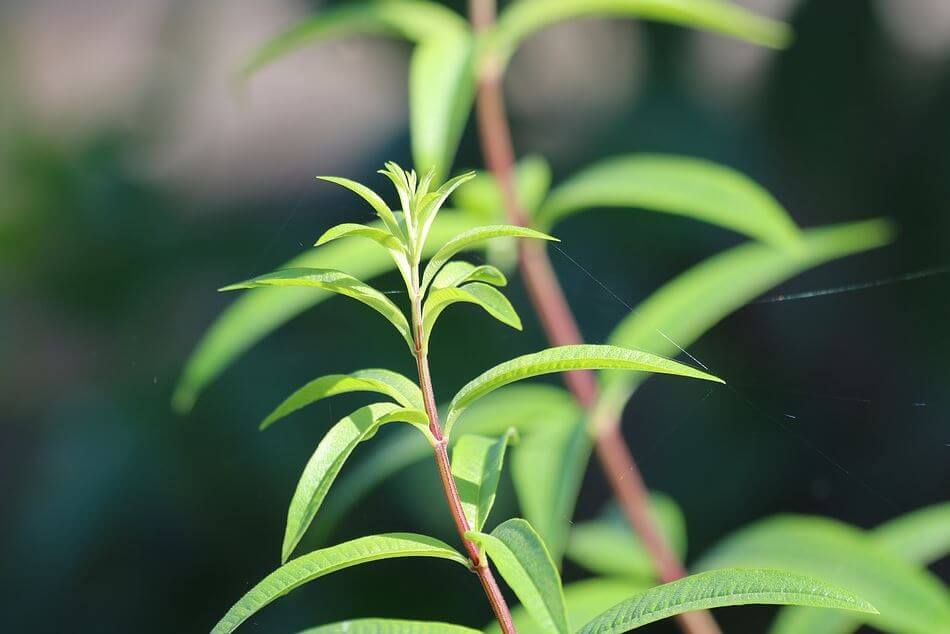 Thai Beer and Beverages
Along with an array of scrumptious foods found here in Thailand, which makes the place really enjoyable, the drinks, too, in Thailand are superbly flamboyant, exotic, and mouth-watering. As Thailand has its most time of the year hot and humid, it makes sense why most of the drinks are ice-topped. The saturated taste of the beverages hails no mixing of alcohols to soothe the taste bud. The list of top drinks never ends in Thailand. Try out one or as many as you want out of the five top drinks served in Thailand, which are mentioned below:
Oliang or Thai iced coffee
Oliang, or call it Thai iced coffee, resembles a lot in taste and color with Americano. It's a cold coffee made up of coffee beans and other ingredients like roasted rice and caramel. It tastes the best when served cold or mixed with ice. The step of coffee preparation is normal, first, hot black coffee is produced by brewing coffee sock; second, hot black coffee gets mixed with sugar and ice.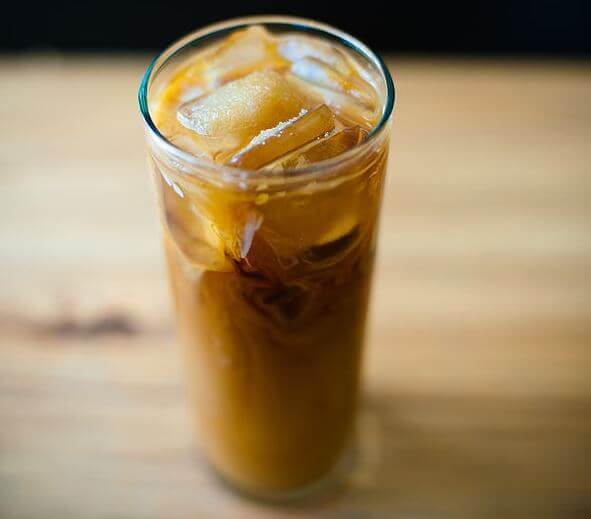 Milk addition to the iced coffee turns Oliang into Cafe Boran which is usually liked by milk-loving people. Cafe Boran is served as a breakfast with porridge. Cafe Boran is an easily available beverage at street shops or motorcycle food carts, and cost ranges between 15 THB and 45 THB, based on the location and restaurant type.
Thai Beer
The beers of Thailand are famous for their affordable price and easy accessibility. As a feature of their taste and price, two Thai-originated beers–Singha and Chang, have made worldwide recognition. There are plenty of beer stores scattered all across the major tourist areas of Thailand. The opening hours for these stores are between 11 am to 2 pm and 5 pm to 12 am.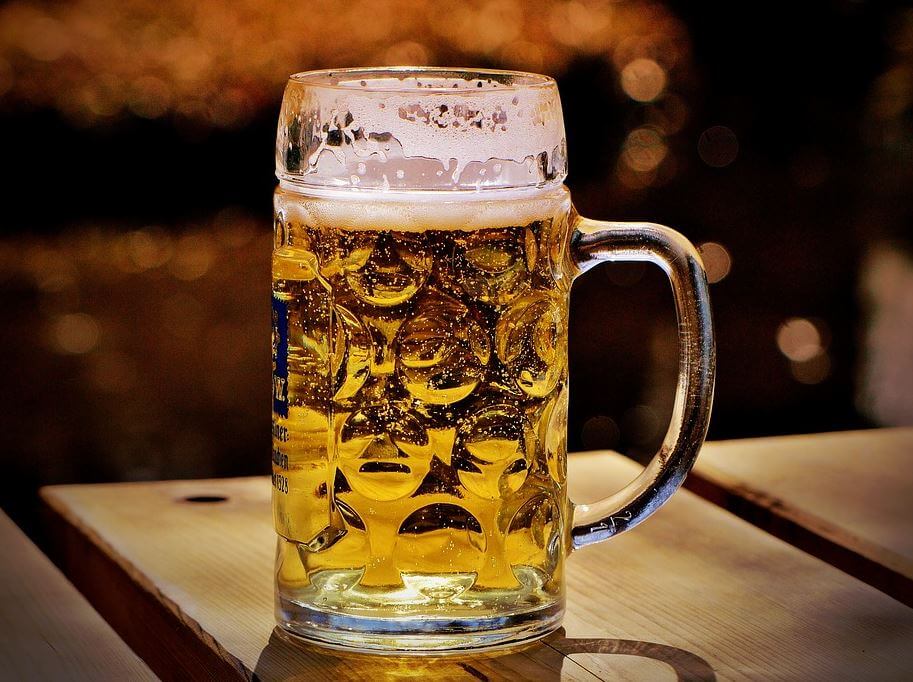 Singha, the oldest beer, is known for its sweetness and tangy taste of fruits. Both of the beers work as the best soothing drink in summer and work as an ultimate weapon against the scorching heat. Like any beer brand, Singha and Chang, too, produce two versions of beer, the lighter one contains 3.5% alcohol; the stronger one contains 5.8% alcohol. Both of the beers fit great with tempting Thai dishes and give the tourist an enjoyable trip experience.
Thai Whiskey
SongSam and Mekhong are the best pals for party maniacs who fly Thailand to get the beast mode out. Both of the whiskeys are prepared by treating rice, sugarcane (95%), and molasses (5%). SongSam is liked by all age groups and is most popular amid the drinkers. Mekhong has got the spark of oldness, which gives it an edge above the others.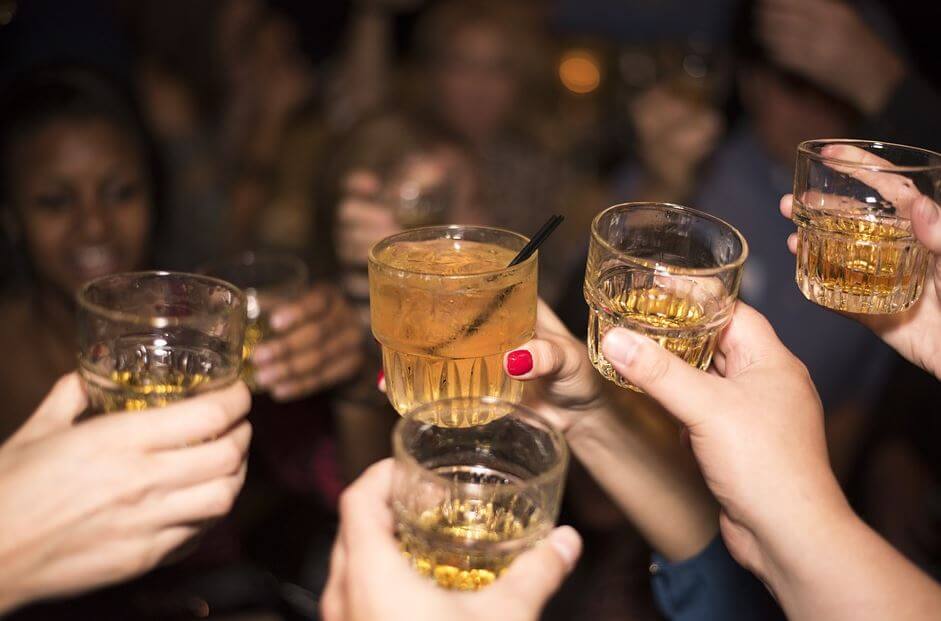 These whiskeys cost cheap and that's why low-cost partygoers and backpackers ask for it more than any other whiskey. Thai whiskey is a mandatory constituent of infamous bucket drinks, enjoyed at full moon party, which gets mixed with unknown beverages.
Thai Nom Yen (iced with milk and syrup)
Thai people exhibit a lot of creativity in food and drink preparation. They experiment with simple food elements to form something new, which gets evident in the case of Nom yen which is produced by mixing colorful syrup–red or green–with fresh hot milk which further takes ice mixing.
Nom Yen is a caffeine-free drink, so it's popular amid children and teenagers. In Thailand, Nom Yen is usually served with a set of steamed bread and a coconut jam dipping. The price for this drink ranges between 15 THB and 30 THB.
Thai Red Bull
The list of Thai beverages is always incomplete without the mention of Red Bull. The Red Bull that we get in the Western countries has been inspired by Thai drink Krating Deang. According to some foreigners, the Red Bull sold here in Thailand is a bit stronger and effective than those sold in West.
It has more caffeine content and tastes sweeter. If you feel like your energy level is decreasing, or your adrenaline requires some pump up, a cane full of this uncarbonated–yes, unlike Western Red Bull, it's decarbonated–and sweetened drink hails the right balance of energy.
Thai Code of Drinking
Yelling "Cheers" Time – How to Say Cheers?
They exercise the same way for proposing a toast as practiced in the Western world. The method is to raise the glass (not too high) and touch with that of others. Following are the ways to say "cheers."
Mote gaow (empty glass/bottoms up)
Chone gaow or Chone (touch gasses)
Choke dee (good luck)
Chai Yo (success)
Important Tips
The legal drinking age in Thailand is 20 years and over. There is hardly any restriction on tourists; however, tourists should carry their valid ID proof to produce before the gatekeeper, in case if asked.
Bucket drinks are vulnerable to drugs. Tourists should be careful when trying it. Some Western men have complained about getting robbed after drinking drug-mixed drinks.
There is no restriction like not using in public areas or on the open road or streets.
Rag pickers and those who find recycling fun, get benefit from the collected glass beer bottles, as it's worth a few bucks. When you get your drink finished, dispose of the bottle in a rubbish bin so the interested people can easily find it.
Historical Influences and Regional Cuisine
With the arrival of Portuguese at the court of Ayutthaya, the chapter of the Western influence started in 1511. The synergy of two distinct cultures gave root to the formation of new dishes, such as foi thong (Thai adaptation of the Portuguese fios de ovos) and sangkhaya (for making a custard, coconut milk appeared as a replacement for cow's milk). The introduction of chili pepper by Americans, in 16th or the 17th century, is considered as a notable influence in the history of Thai cuisine. Along with rice, nowadays, chili pepper has turned out to be one of the most important ingredients in Thai cuisine. There is a vast influence of Chinese cuisine in Thailand. How the Chinese influence first stepped in Thailand, it's history goes back to the 15th century, by the contribution of Hokkien people. Later, in the 18th century, when Teochew people started to settle in large numbers, the confluence of Thai and Chinese cuisine led to the inception of many mixed dishes, like rice porridge, Khao Kha Mu, Kuaitiao Ra Na, Chok, and Salapao. With the increment of the Chinese diaspora, Thai people learned the use of wok for cooking and many new cooking techniques like deep-frying and stir-frying dishes. Chinese people also shared their noodles, soy sauces, tofu, and taochiao, with Thai natives, the influence of which is clearly visible in Thai cuisine. From the land of India and Persia, Thai cuisine learned the use of dried spices which further caused the birth of Thai adapted dishes like Kaeng Kari and Keng Matsaman. They were the Buddhist monks who brought the touch of Indian cuisine to Thailand. The Muslim people, who mostly came from the southern Islamic states, left their cooking mark in southern Thailand. As an effect of the boom in tourism since the 1980s, Thailand has advanced its hold on the world cuisine to get into the list of top five hubs of culinary arts, along with Chinese, Indian, French, and Italian. In some parts of Thailand, there is still the influence of Japan and French cuisine.
Regional Variation
Thailand's geographical distribution into hundreds of islands makes the overall cuisine summing up difficult to define. A deeper perspective gets only visible if the cuisine structure is divided into four main regions. The geographical area vastness of Thailand reflects a lot in its cuisine variation which evolving from a miniature stage over the years, has developed to become prominent in the four distinct styles, namely Northern, Southern, Central, and North-eastern.
Northern Thai Cuisine
The northern part of Thailand is known for its minimal use of salt and spices. Papaya salad is one of the most famous dishes in this region. The cuisine of the neighboring country, Burma, has a strong influence here. Northern Thai people prefer milder foods. Famous dishes in this region are Kaeng Hang Le.
Southern Thai Cuisine
Being the main tourist area of the country, Southern Thai cuisine has got worldwide exposure. Southern people rely largely on coconut for food preparation. People make heavy use of seafood and for frying food materials, coconut oil is used in the place of Ghee. Natives use strong spicy herbs and turmeric to add deliciousness to the food.
North-Eastern Thai Cuisine
Because of its closeness to Laos, the cuisine of the northeast part gets the same feature as of Laos, i.e., highly spicy. This regional cuisine is also influenced by Khmer cuisine. In the beginning, there was a scarcity of meat in this region, but with time the situation changed and nowadays, plenty of dishes are found here. Lap, or Larb, and tom sab soup are the most famous dishes here.
Central Thai Cuisine
Central Thai cuisine is neither too spicy nor too mild. Dishes are moderately prepared here, and most of the dishes contain coconut-made curries, such as green curry, Panang curry, and Tom Kha soup. The main feature of the central cuisine is that it's home to royal cuisine, involving meat-rich dishes preparation using complex techniques.
Top Food Markets in Thailand
Talad Rodfai Ratchaola (Bangkok)
Talad Rodfai Ratchaola night market place was previously anchored by a railway station, so the name it has got Train Market, inspired by the old-held spot.
If you visit it now, don't expect to find a train or railway amid the market sight. The place gets soaked in the aroma of a variety of street and restaurant foods—such as handmade curios, knickknacks, snacks—and clothes and common stuff required to beautify a home, comprise the majority of the market.
A peripheral ring of finger-food restaurants, in addition to shipping container bars and VW Van bars, surrounds the stall gathering. This night-organized market brings delicious seafood, fried insects, fried cheese, tasty bakeries, traditional Thai desserts, and jumbo-size noodles to the table, to please the visitors' appetite.
While you gulp some beer or cold drink down your throat, position yourself at a rooftop bar and get drowned in the mesmerizing pop music—conducted by bars, hipsters and vintages—and cherish the bird-eye vista of the stalls bathed in the beautiful combination of colors all around.
Top picks that tourists find a kick on their taste buds:
Holy Cheese

Watermelon on ice

Jumbo-sized noodle
Timing:
The market opens at 6 pm and runs till late at night. On Monday and Tuesday, the market stays less crowded.
Location:
MRT Thailand Cultural Center Station, Exit 3.
Coco Walk Rachatewi (Bangkok)
Nestled in the heart of Bangkok, Coco Walk Rachatewi food spot happened to be one of the most popular destinations for the people, to unwind their stress after work hours, until the modern night markets emerged as a more alluring hub than the traditional wave Coco Walk Rachatewi carried.
A non-functioning fountain at the entrance, reduces the visitors' interest, pushing the place into a forgotten diary or a 'thing of past'—but not so soon as the renovation is still hope.
The alley starts with the restaurants, offering a variety of dishes and dining experience to the visitors and pulls the party lovers to the back of the spot where the bars operate.
There is a positive atmosphere everywhere in the market. A few places that add charm to the market are known for their own specialties; for example, Skate Cafe is famous for its skateboarders' show, giving you a good view of skaters jumps and flips on a ramp while having dinner.
Delicious picks to try at Night Food Market
The Korean Shabu Shabu

Skate Cafe & Bar Restaurant
Operating Hours:
Open at 6 pm and closes at 2 am.
Location:
Ratchathewi BTS, Exit 2
Chiang Mai (North Thailand)
Whether it's the call of a souvenir shopping or not, the lively atmosphere, discounted products, and a plethora of food dishes work like a magnet and attracts the shoppers and foodies from far. Chiang Mai Night Market is one of the oldest and most famous evening markets in the country.
The massive gathering of vendors stretch out to a mile long and no matter whether you're purchasing or just browsing an array of products, such as clothing art, jewelry, and handicrafts, this place is a fabulous spot for experiencing an exciting evening.
By the dusk, the regular looking street turns into an astonishing market. To a visitor's surprise, it would be hard to guess if the same place was so crowded and busy last night. In the day time, Chang Klan Road looks like a normal street with hotels, restaurants, and stores on both sides.
Operating Hours: Open around 6 pm and runs until midnight.
Pai Market (North Thailand)
Every night, in the center of Pai, the Walking Street unfolds into a food and craft market. With an increased number of stalls, the density of the market increases during the peak tourist season between November and February.
Apart from food, this night-operating marketplace unboxes a wide range of goods such as handicrafts, clothing, jewelry, bags, postcards, shoes, and souvenirs, at a really cheap price–and sometimes bartering choice, too. All it takes is a smile on your face and Thais get lured into offering you great discounts.
Along with the stalls of authentic street food, this place is a one-stop destination for shopping bakeries, tasty desserts, and juices. A large number of bars and restaurants surround Pai Walking Street Market, supplying plenty of places to eat and drink. Bars–set to thrill using live music–stay all night young and get easy only by morning.
Compared to its Chiang Mai counterparts, The Pai Market is a lot quieter and offers lucrative deals and bargains.
The market runs slow during the offseason, between April and September and runs completely dry if there is a thunderstorm in the weather forecast during the wet season. The ideal time to visit this marketplace is from November to March.
Opening:
The market opens around 6 pm and comes to stop around 10:30 pm.
Location:
Along Chaisongkram Road and Rungsiyanon Road
Chalong Night Market (Islands)
Chalong Night Market is based in Chalong. This market is equipped with everyday goods and services, including an array of street food to enjoy.
BBQ seafood, sushi, pastries, candy, smoothies, and a variety of Thai desserts are the top picks here. When in the Chalong area, it's an ideal place for hanging out and enjoying a mix of good food and weekends.
This market opens only on weekends. As per the tourists, it's a nice place to enjoy different types of street foods. A lot of stalls serve the same street food and the copied dishes are not that delicious as the original ones or the most famous ones.
Operating Hours:
Chalong Night Market operates every Saturday and Sunday from 4 pm till around 11 pm.
Location:
HomePro Village near Chalong Roundabout
Malin Plaza Patong (Islands)
Compared to the rest of Phuket's bustling and crowded markets, Malin Plaza Patong offers a cooler environment and an impressive range of food and other essentials at a fair price.
Indeed, not so busy as the likes of Phuket Town's weekly held market, the shopping experience at a nightly arranged market is nonetheless popular and highly talked about subject among tourists.
A wide range of food served in front of the roofed area enhances the shine of the market and attracts food lovers from across the city.
Shoppers, before and after the shopping, reach out to the roofed area to gulp some street food classics, fried chicken and chips, fresh ice cream, 90-baht cocktails, fresh fruit, and crepes.
Some stalls specialize in preparing halal food–also served at Al Basha Restaurant–which is a top non-veg food worth an experience. According to my personal experience, the quality of the street food is doubtlessly excellent, irrespective of cheap rate and served in an open area.
Besides Chiang Mai and Mahasarakham located markets, Malin Plaza Patong marketplace is one of the three in the chain of such markets, which has earned a reputation for Thai street food experience, among newcomers.
The glowing big blue sign by the side of the southernmost main road in Patong, catches the attention of passersby from a vast distance and urge for a quick shopping here.
Opening:
The market opens at 2 pm and shutters fall at midnight.
Top 10 Thai Dishes to Eat in Thailand
1. Som Tum (Papaya Salad)
With its origin in the North Eastern state of Isaan, Som Tum gives foodies a divided critique sense of its taste. Whereas some target to clear space inside the stomach to get enough of its bite, some fall by the side of haters who can't handle the spiciness of this yummy dish and blame it for being too hot.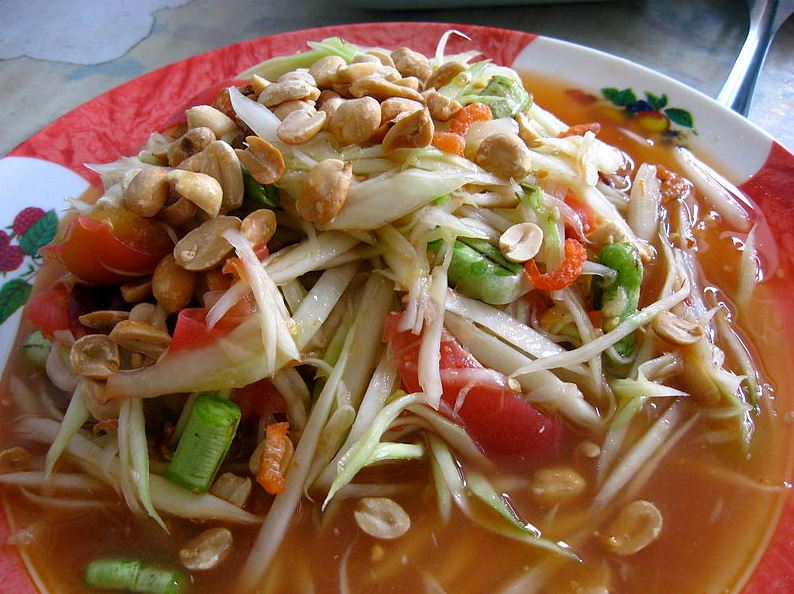 Green beans, shredded raw papaya, cherry tomatoes, garlic, and chilies get pulverized in the pestle and mortar to deliver an infused taste of herbs, spices, and vegetables, which collectively amplify a rounded sweet-sour-spicy flavor. Besides the aforementioned ingredients, classic som tum preparation requires peanuts, dry shrimp, salted crab, carrots, palm sugar, and fish sauce.
2. Gaeng Daeng (Red Curry)
A colorful, spicy, and delicious curry—Gaeng Daeng is a perfect fusion of meat, red curry paste, and smooth coconut milk, which make Gaeng Daeng a taste buds tingler. To enhance the taste, further ingredients Thai people find necessary to use in the curry making are spices and herbs like garlic, shallots, chili peppers, fish sauce, kaffir lime, and galangal—which combinedly makes the curry mild, sweet, and delicately fragrant.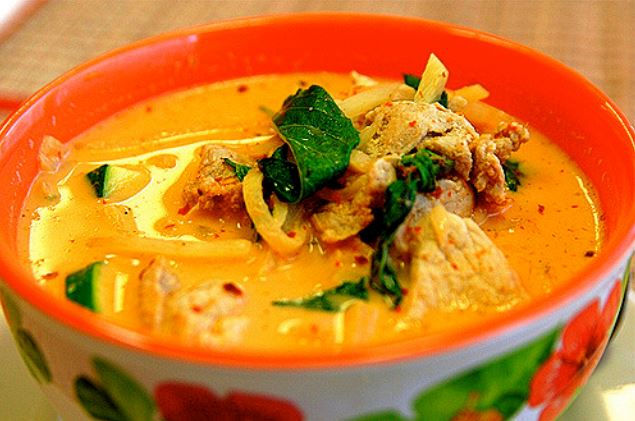 Gaeng Daeng stands as proof of the extensive application of rich Thai natural resources and the creativity that the natives reflect in their cuisine.
The main ingredient—mostly chicken—could be substituted with pork, duck, shrimp, and tofu, sometimes, to produce a differentiation in the homogeneous way of cooking the red curry. It is often served with bread or rice.
3. Gaeng Keow Wan Kai (Green Chicken Curry)
Gaeng Keow Wan Kai is one of the signature dishes of Thailand. Hailing from central Thailand, Gaeng Keow Wan Kai takes a variety of humble elements like morsels of fresh chicken, cherry-sized eggplants, sprigs of coriander, tender bamboo shoots, a handful of sweet basil, a spoon of green curry paste, and coconut milk, to dress a glorious green color and a mouth-watering flavor.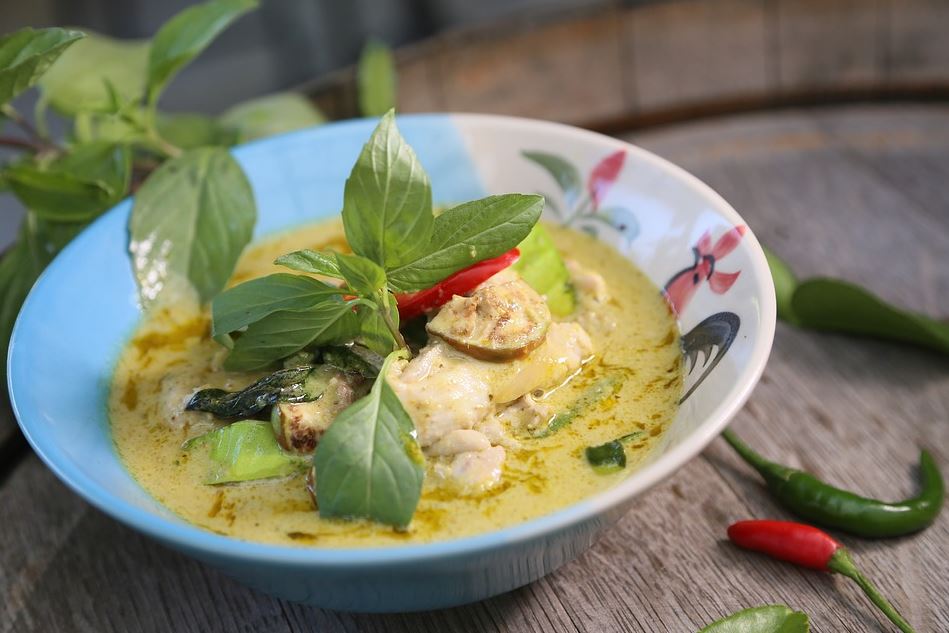 Besides the prime ingredients, spices like fresh green chilies, ginger, Thai basil, soy sauce, and lemongrass play a crucial role in storing the true taste of Gaeng Keow Wan Kai. The taste gets doubled and spiciness slashes to half if Gaeng Keow Wan Kai is served along with fragrant Thai rice.
4. Yam Nua (Thai Beef Salad)
Had there been a title for salads to address, Yum Nua Thai Beef Salad would have undoubtedly grasped the hall of fame. Apart from meeting the core properties of a salad, this delicious salad goes one step beyond to cover a perfect combination of healthy ingredients, heaps of flavor, and minimal preparation time. Tender strips of beef marry with a mix of onion, spearmint, lime, coriander, and dried chili, to embody an invigorating in-the-mouth-trill and yummy-ness experience. It's so unique to narrate an adequate balance of spicy, sour, and salty flavors; aromatic herbs, and fresh veggies—which all fuse together with the prime ingredients to produce an unprecedented treatment to the taste buds.
5. Khao Pad (Thai Fried Rice)
Khao pad is basically fried rice, which has emerged as one of the classic dishes of Thai cuisine. No longer constrained to restaurants and household kitchen, it has found a special place on the mobile food stalls that wander throughout the city until late at night. Whether prepared fresh or from the previous night meal leftover, Khao Pad is known for making the best use of rice leftovers and spreading out inspiration for how not to let go food wasted.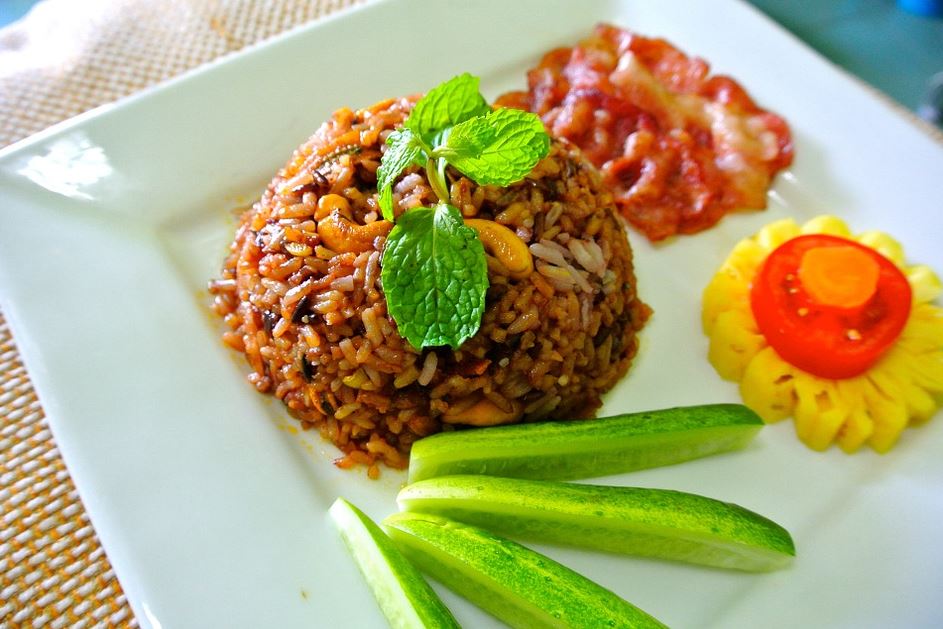 If you find anything similar to Khao Phat, Kow Phat, Khao Phad or Kao Pat in a restaurant menu, don't get baffled because it's the same Khao Pad that has got different interpretations here, used by both the locals and the tourists. In Thai language, Khao stands for rice and pad, according to the Chinese, refers to quick and hot parching. Unlike other Thai dishes, Khao Pad is easy to digest—and not spicy. Relieved?
6. Khai Med Ma Muang (Thai Chicken with Cashew Nuts)
Kai Med Ma Muang is popular among tourists for making them go nuts, for sampling this stir-fried dish. It is one of the most recommended foods for tourists in Thailand and ranks ninth among the top ten most ordered dishes by foreigners. It's a blend of stir-fried chicken with cashew nuts, sweet soy sauce, onions, carrot, mushrooms, pepper, chilies, and snacks—these all ingredients mix properly to produce a spicy flavor and tongue-lingering taste.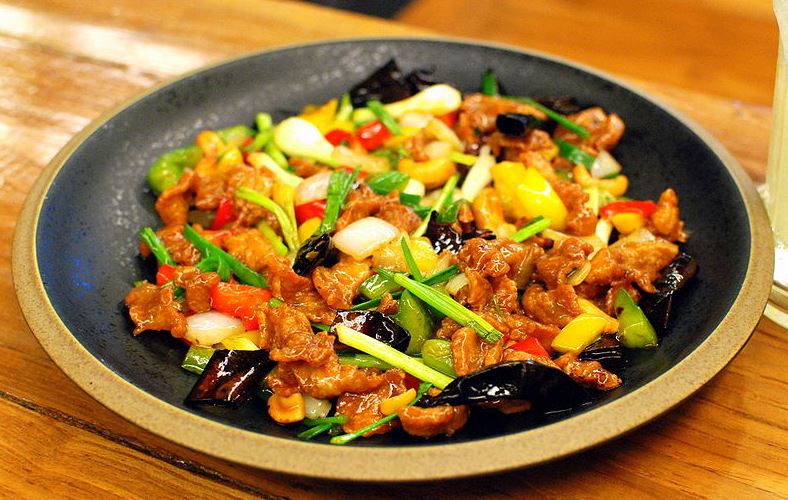 It's well said about tourists who taste it once, name it their favorite Thai dish.
No matter what goes on the stove, in the recipe, it's the sweetening dash of honey that overpowers all the elements fusing in together and proves most appealing. And when a plate full of Kai Med Ma Muang is in front, who really cares about the superiority of components; all they care is that this dish exists—it's simple but delectable, a bit conventional yet entirely Thai.
7. Khao Soi (Thai Noodles)
With its origin in Northern Thailand, Khao Soi is a Thai curry dish made to satisfy one's craving while still standing out of the ordinary zone. It's a thick coconut curry-based noodle soup that for intensifying the taste and calorie heaviness, comes topped with crunchy noodles, fresh cilantro; and pickled cabbage, limed wedges, raw red onion on the side. Based on the choice of an eater, the main ingredient, chicken, can be replaced with pork, beef, or vegetarian options.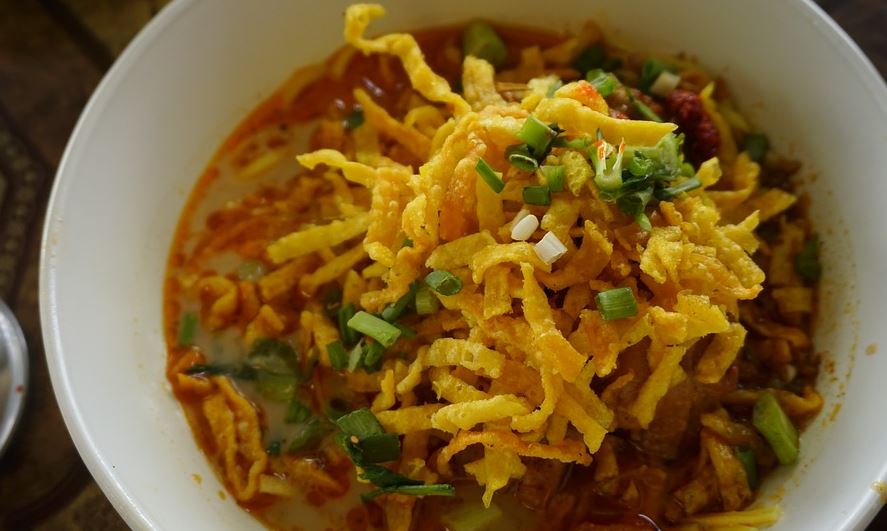 Khao Soi is made with a blend of red and yellow curry spices, chicken broth, soy sauce, coconut milk, and a little sugar. On minimum flame, all the ingredients are slowly simmered for a long time, to let develop the yummy flavor, and for the chicken to come right off the bone while eating with chopsticks. If you have Chiang Mai on Thai itinerary, this is a must-have dish.
8. Panang
Panang, also known as Phanaeng, Phanang is a red curry specific to Thailand and Laos. Compared to other red curry paste, Panang is less spicy, intensely aromatic, and lip-smacking dish. Panang red curry is featured as thick, salty, and sweet, with a peanut flavor. In Thailand, pork panang is the most popular curry dish.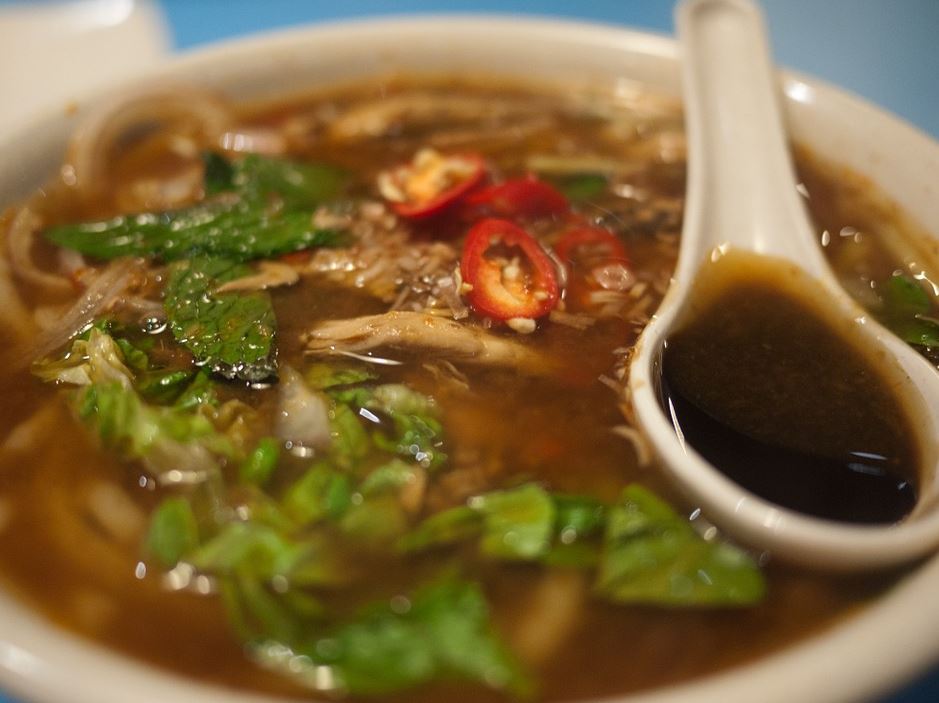 This curry comes in both the non-veg and the veg form. To make a non-veg type of curry, chicken beef, meat, or shrimp is used. To make a vegetarian version of this curry, kapi chae replaces shrimp paste; fish sauce is substituted with soy sauce or vegetable stock; in place of meat, tofu comes in use. Thai people prefer rice to eat with red curry.
9. Laab Jay (Vegan Laab)
Folks eating it for the first time may find Vegan Laab a little strange. Laab stands for spice-filled meat. It is a peppery flesh consisting of salad. Having origin in Thai, it is one of the most popular dishes of Laos.
You can create a vegetarian version of this dish, too, by removing meat from it and replacing it with some kind of tofu. The new dish will be no less yummy than the original non-vegetarian dish. It is normally too spicy to taste this dish and if you still want to taste the hotness of spice in it, have it with onions and pumpkins.
10. Tao Hoo Song Kreung (Mixed Tofu)
Tofu dishes are popular around the world, and it's hard to get enough of tofu to the capacity of appetite. Tao Hoo Song Kreung is a mixed tofu dish and is extremely simple to make.
The mixed tofu is fried with basil and mixed with protein supplements, to make it a lip-smacking stir-fry dish. Served with steaming rice, it is a perfect dish for mid-meal hunger.